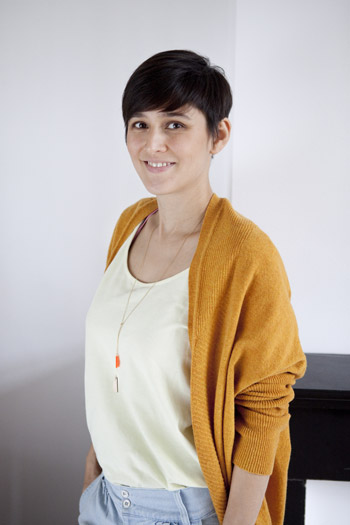 design
TURINA.Jewellery is different. The playful use of unconventional materials creates jewellery which not only adorns but is also fascinating and exhilarating. Some well known objects, for example small boats or acorns, are used to excite the imagination – making the jewellery entertaining and desirable. Every piece is a delicate work of fine art, making it even more precious. TURINA.Jewellery demures: less is more. That little extra is the finishing touch to an outfit. A dash of colour, a shiny highlight or a piece of unrefined material, in the correct measure, is very ornamental.
development
Beginning in 2010, the young label, working out of Amsterdam, has been taking the European hotspots by storm. The jewellery can be purchased from selected concept stores, gallery shops and fashion boutiques. It is available from our own online shop.
Most of the jewellery is still created in the artist's own workshop. Sandra Turina, the designer, has an innovative down-to-earth approach to "get the job done" which ensures speedy, efficient and imaginative results. After working for a number of years in product conception for design companies, Sandra felt the need to create her own works of art. These were to be small, uncomplicated, readily manufactured and sold directly to her customers. They should bring pleasure to their owners. The jewellery pieces are lovingly presented on paperboard, ideal for making a lasting impression as a present.
cooperations
A number of collections have been developed in cooperation with other Designers or Specialists. Different expert opinions offer alternative angles and help us to develop exciting and refreshing results. In this way we expand our range as well as broaden our horizon.
MAIKE WIEGMAN – Production Manager
Maike is managing our small scale production here in the studio. On top of ensuring that we never run out of stock, she is also continuously checking the quality of our products and if necessary, implements the appropriate improvements in the production process. German style quality control – we totally appreciate it!
HELLOWYELLOWSTUDIO/Zsuzsanna Ilijin – Illustrator
Thanks to Zsuzsanna Ilijin's drawings and drive, the WOODEN DIAMONDS were born. Together we had been trying to find a way to make nice products out of her amusing illustrations. After testing all kinds of materials we finally settled on birchwood laminate out of which we lasercut some of her drawings. That was exactly what we had been searching for! They have been part of the Turina product line for quite some time and can be considered a classic.
See the Wooden Diamonds collection here>
See more of Zsuzsanna's work here > helloyellowstudio.com
LENA STEINBORN – Graphic Designer
Lena not only designed the Turina logo, she is also responsible
for everything relating to the Turina corporate design.
As a friend she has accompanied the TURINA label from its
very beginning and therefore she is very familiar with our style
for visual communication. Not surprisingly, we also asked her to consult us on the development and designing of the ABC collection.
As a graphic designer she has her own philosophy about letters and came up with the idea of giving each letter a different design. A as in Astronaut, B as in Bubble, C as in Candy: this joyful associations accompany this collection thanks to Lena's input.
See the ABC collection here >
RUBEN VAN DER SCHEER – Wood Specialist
We started collaborating with Ruben for the Vanishing point collection, which was inspired by some splits that fell off Ruben's work bench. And ended in a well made collection.
For the DOTS collection Ruben contributes his exciting wood experiment of sand-blasting. One of his first samples actually initiated the development of the collection.
See the Vanishing Point collection here >
See the Dots collection here >
See more of Ruben's work here > rubenvdscheer.nl
ELKE VAN DEN BERG– Porcelain Specialist
Thanks to Elke our well-loved ACORN necklace got another product improvement: the casted acorn caps are now made from finest, raw porcelain in Elkes studio. Keeping the same appearance of a natural, matte surface this nice material makes the necklaces even more precious.
Further more she also enriches the DOTS collection by making the unglazed porcelain version of our brooch.
joining forces and turning them into a jewellery collection.
See the Acorn necklace here >
See the Dots collection here >
See more of Elke's work here > elkevandenberg.nl

SPECIAL THANKS to
Product, still and model photography: Maarten Willemstein
Portraits: Anneke Hymmen
Interactive design and realization: Stefan Laberer